August 18th, 2012
So I just finished Elicia & David's ceremony, and the wedding party files out of the room and into the cocktail reception area. I, however, make a discreet beeline for the bathroom, wiping off that freakish pink lipstick as if it were napalm and reapplying my blood red pout. *sigh* So much for trying something new.
I make my way over to my husband, who (despite knowing absolutely no one at the reception) is already seated at a table with two hot chicks and is chatting away as if he's known them for years. This is something about Ricky that I find completely endearing; he is so goofily charming and personable that he can come to these weddings with me and (with very little effort) strike up interesting conversations with complete strangers, whereas I (if left to my own devices) would stand around awkwardly, drinking my weight in alcohol and praying for a fire drill. The hot chicks are friends of the bride, and in fact one of them is a hair and makeup person who you should probably hire as soon as you finish reading this post. Or maybe before. Seriously, I'll wait. (Here's her website: http://www.marialicari.com/) She's done amazing hair and makeup for celebrities and everything, yet she doesn't charge any more than that cheesy wedding salon you found online.
Anyhoo, at some point I decide to wander around the room, and eventually run into the ring bearer, Isaac, whom I had met briefly before the ceremony.
He introduces me to his fiancée, Lena, and they tell me that they'd like to meet with me to discuss their wedding, which they warn me "will be nothing like this one. We're poor." I assure them that I am nothing if not affordable, and then (after looking around to make sure Ricky can't hear me) offer them a half-price "friends-and-family" discount. The reason I had to say it on the sly is that Ricky and I are pretty much always butting heads over how much I charge, and by that I mean how *little* I charge. Ricky's argument is that I'm really good at what I do, and even if I doubled my price, I'd still be half of what other officiants charge. My argument is that the money isn't important; I really like what I do and I want to stay affordable for as long as possible. And so…hush-hush. (Luckily, he doesn't read my blog either. So don't rat me out, people!)
At any rate, we agreed to set a date to talk about their upcoming nuptials, and a few weeks later we were getting trashed at a great little dive bar, listening to the regulars argue drunkenly about other drunken regulars as I drunkenly scrawled notes about everything from their relationship to their pets to their pet peeves to their plans for the future. At some point, they must have hired me, because the next morning, I checked my barely-legible notes to read "WOOOOOO-HOOOOO! Puppet Theater wedding!!" scrawled across an entire page. Underneath, it said "liverwurst, licorice, cigars and whiskey," circled several times with the words "REMEMBER: IMPORTANT!" next to it, which only served to remind me that it was important to probably drink less when taking notes.
Fast-forward two months to August 18th, and I find myself at the now sadly-defunct Clockworks Puppet Theater in Brooklyn. An eccentric antique-lover's dream come true, the space is filled with awesomely weird and random collectibles, not to mention dozens of quirky and adorable hand-made marionettes dangling from the ceiling. Several rows of church pews lead up to the red velvet-curtained stage, and despite the ferocious heat outside, inside it is darkly cool and pleasant.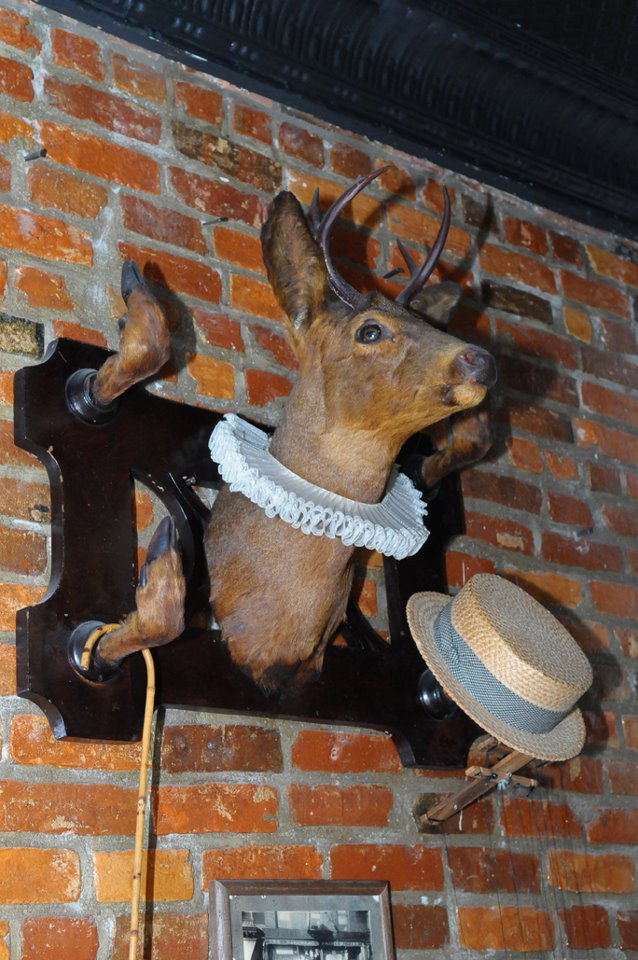 Old-timey music plays from the speakers overhead as the 20 or so guests seat themselves and I take the stage. An accordion player takes over, and the beautiful bride Lena ascends the stairs, beaming from ear to ear in a strapless sheath of dusky lavender. Despite being so nervous that he was drenched in sweat and his hands were shaking like a British nanny, Isaac managed to read his vows after Lena's without a hitch, and their short-and-sweet ceremony left everyone charmed and happy for the adorable newlyweds. The service was followed by a lovely dinner at the cozy French restaurant Parigot and then a raucous rooftop party at the Dream Hotel's Ava Lounge.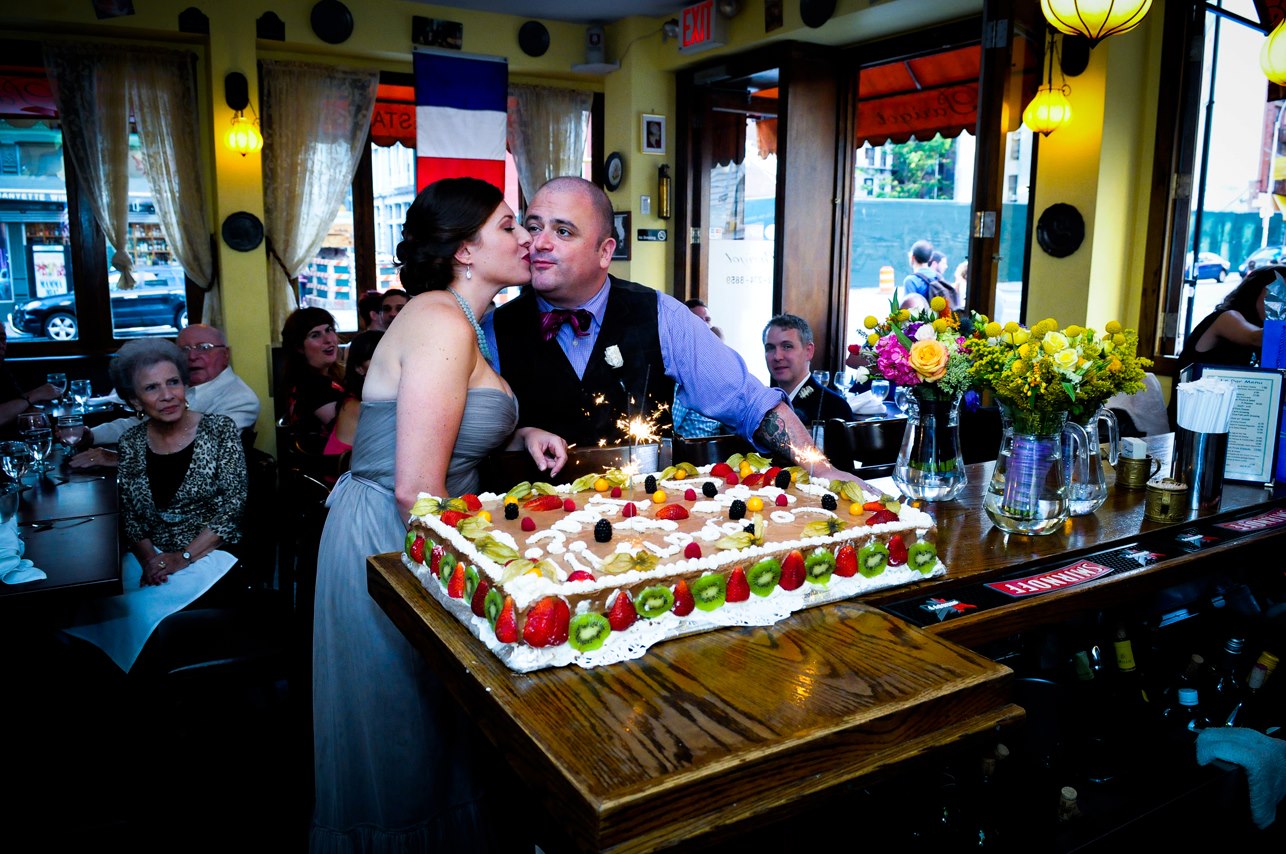 At some point, Ricky and I managed to stumble out the door and call a cab. He passed out almost immediately and left me to collect my thoughts, most of which involved me wishing the world would stop spinning. And in between the spinning and periodically checking Ricky for a pulse, I kept thinking to myself that being a wedding officiant was probably the most awesome job I'd ever had. I mean, I get to meet amazing and cool people. I get to have a lot of fun while helping them achieve their vision of a perfect wedding, and then I get to be with them as they celebrate the happiest day of their lives. Often, I am asked to stay for the reception (sometimes, even with my husband). And at the end of the day, I make a couple of bucks. Not to mention a couple of new friends. So let me tell you, there is absolutely *nothing* about this job that sucks.
Except waiting for the stupid world to stop spinning.
Which (bizarrely) was not nearly as painful as my previous wedding's Adventures in Neutral Lipstick.
Sorry, Elicia. ;P