June 2nd, 2012
Now, let me state for the record that one of my Reverend promises is that I will honor pretty much any special request, no matter how weird or how wild. To quote my website directly: "You want to get married by a chick in full gothic regalia? Done. Want to get married by Slave Leia? Done. Want an Officiant who tells dirty jokes? Leads a pagan hand-fasting ritual? Dresses like Elvira or a zombie for your Halloween wedding? Reads the entire service in Klingon? You get the idea." And yet, on June 2nd, a bride asked me to do something so bizarre and so violently against everything that I am that I nearly went back on my word.
That's right. She asked me to wear neutral lipstick.
I find it amusing and just a little sad that someone could ask me to dress like a pirate or belt out a song in front of two hundred strangers and I won't even blink, yet if that same person asks me to go outside of my makeup comfort zone, I almost have a friggin' stroke. But it is what it is. And since Elicia was such a super-cool chick, I finally agreed to release my death grip on my dark red lips and try something new, no matter how much it freaked me the hell out.
I think the trouble started when Elicia sent me a photo for reference. It was a glamour shot of the hot chick from Transformers (I had to look up online who she was) and in it she had heavily made up eyes and pale pink lips.
Unfortunately, this is a style that looks fantastic on a gorgeous, twenty-something starlet walking the red carpet, and decidedly less so on an aging goth wedding officiant. But a promise is a promise, so into every CVS, Walgreens, Duane Reade and Rite Aid I went, photo in hand, searching for that elusive and magical shade of pink that would match Megan Fox's perfect pout and therefore make my bride happy.
Three days later, I had almost a dozen lipsticks piled in my bathroom sink like spent shotgun shells, and I was no closer to the right shade of pink than when I started. I finally decided to get some professional help, so I walked to the nearest MAC store to enlist the services of some snarky teenager with foundation so thick it might as well have been applied with a spackle. The place was fairly empty, so as soon as I walked in, I was greeted by a tall, skinny queen with perfectly arched brows and what appeared to be glitter on his eyelashes. I held out my (by now) crumpled printout with relief, thinking that I would finally get what I was looking for. And wouldn't you know it, Miss Thang took one look at the picture and, before I could say a word, said, "Oh honey, you do NOT look like Megan Fox."
*sigh* Yeah, I knew that. Thanks, buddy.
Suffice to say that (despite being a bitchy queen) he was actually able to point me in the right direction, and so I went home with a lipstick that was pretty damn close and put the search to bed. The next problem, however, was my hair.
Hair is not normally a problem for most females over the age of 10, who all manage to style their hair on a daily basis without incident. I, however, apparently missed out on all of those How To Be A Girl classes when I was younger, and so even as a grown up, I can do little more than wash it and let it hang around. I can't even make a decent ponytail; when I try, it's always lopsided and loose and looks like it was styled by Edward Scissorhands while having a seizure. Don't get me wrong; the long, wild locks look great on stage when I'm performing with my metal band, but they are lacking a certain amount of class when I have to dress up and pretend to be an adult. So on the morning of June 2nd, off to the salon I went, thinking that an hour should be plenty of time to wash my hair and blow it out into some semblance of order.
Two-and-a-half hours later, I was running at full-tilt from the salon to my apartment in a desperate bid to stay on time; having been late to a wedding once (not my fault, but still, I was devastated) I swore it would never happen again. Turns out my hair takes roughly FOREVER to blow dry because it's so freakin' long, and even though it looked fabulous, I was pissed as hell at the salon lady for not giving me a heads up on that little tidbit when I made the appointment (in person) a week earlier.
I threw on my dress and heels and (as I had mercifully already done my makeup before my hair appointment) prepared to head to the train. But almost as if a force field was preventing me from leaving, I came to a screeching halt at the mirror in the hallway. I turned to leave, then turned back. Turned. And turned back. Turned. And turned back. And suddenly I realized that, no matter how hard I tried, I was simply not going to be able to leave the apartment looking like my mouth was missing.
The irony of the situation was not lost on me. I know that most other women would have the exact same reaction if they suddenly had to give up their nudes and pinks and mauves to wear the bloodstained color that I wear every day and consider to be the epitome of normal, but no one was asking them to go outside of their comfort zones and onto the train looking like freaks.
To make a long story short, I wore my usual lipstick on the train ride, then sheepishly ducked into the bathroom at Le Parker Meridien to reapply the pink before the bride noticed. But truthfully, I could have been wearing any shade of lipstick or none at all or have been missing a mouth or had been naked and on fire while singing Oh! Susanna when Elicia walked into the room. 'Cuz that chick looked like she just stepped out of a goddamn magazine.
Since the only designer I wear is T.Arget, I couldn't tell you whose dress Elicia was wearing. But even a fashion idiot such as myself knows designer duds when she sees them, and this was the real deal. A slim, floor-length sheath in beautiful blush ended with soft wisps of blush and blue. Matching t-strap sandals made her look even taller and thinner, if that were even possible. And most importantly, she was beaming from ear to ear...the best bridal look of all.
Steppenwolf's Born To Be Wild played on the PA, and as David pushed the wheelchair, Elicia's father walked her down the aisle.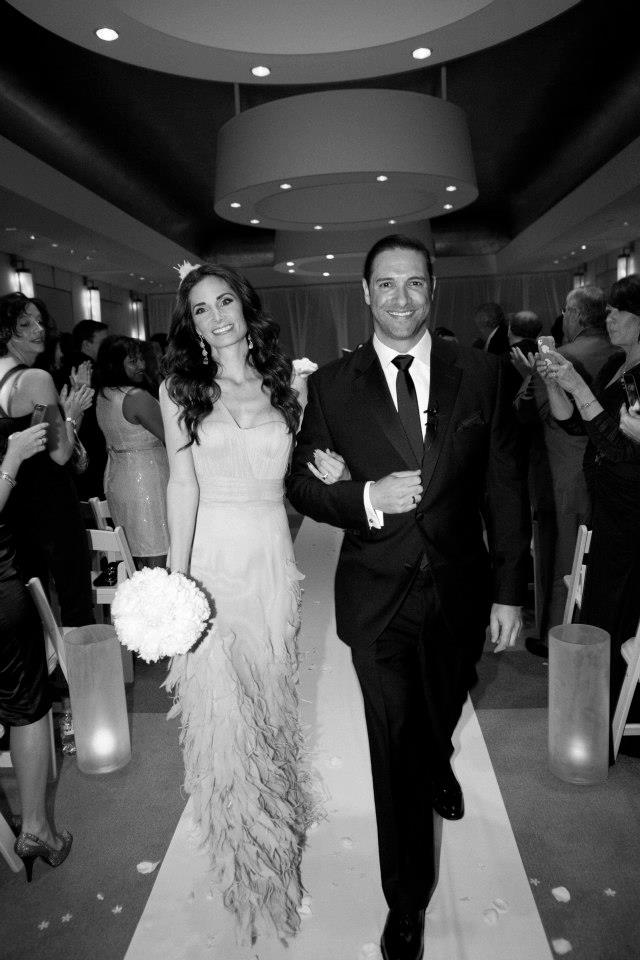 David's vows were heartfelt and hilarious, meanwhile Elicia's were summoned up from her Blackberry and ended with a joyous shout of "Let's do this!" amid laughter and applause. We all filed out and into an indulgent cocktail hour, where my husband and I met and made many new friends. (Don't believe me? Wait 'til you read about Lena & Isaac...stay tuned!)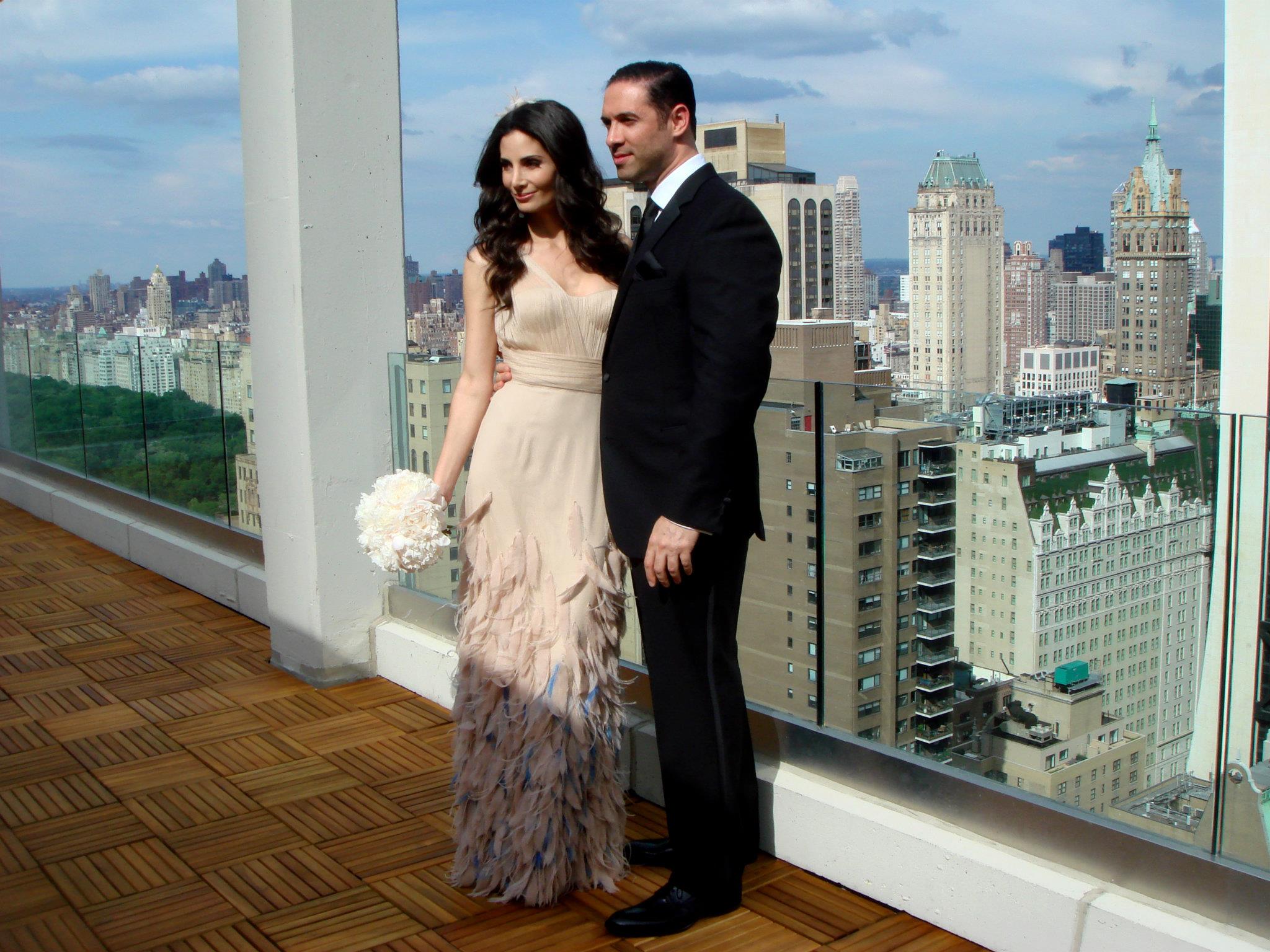 The penthouse of Le Parker Meridien was the setting for the elegant reception, with stunning views of Central Park and a glorious full moon. Elicia, a talented (and published!) children's book author had designed everything from the invites to the wedding programs to the menu. A fun photo booth allowed us all to act like idiots and then preserve the moment forever on film, much to my great shame. And at the end of it all, I went away with some amazing memories, some new friends, another gig on the horizon, and – best of all – a service that made the lovely couple and all of their guests incredibly happy.
Not to mention a small arsenal of pink lipsticks. And I'm not afraid to wear 'em.
Okay, so maybe a *little* afraid.
Hey, I'm working on it.