Dana and Kristen (whom I came to know affectionately as Jet and Boo) were a lot of firsts for me: they were my first outdoor wedding, they were my first handfasting ritual, they were my first couple who wrote most of their own ceremony, and theirs was the first wedding I would dress in costume for. (Betcha thought I was gonna say the gay thing, didn't ya? Well, I don't see any difference between straight and gay couples, so they weren't a first for me. Nyah.)
They were married on Halloween morning, 2011, in front of the Alice In Wonderland Statue in Central Park. Dana was simply stunning in a form-fitting, sleeveless black velvet gown...yet (in photos) you would never know that it was positively FREEZING that day!! Kristen got off a bit easier, as she had a lovely, lace-trimmed velvet tuxedo jacket over her burgundy corset to keep her warm...in addition to the embrace of the love of her life. The ceremony began (by request) with the intro to Prince's "Let's Go Crazy" (Dearly beloved, we are gathered here today to get through this thing called life...) and dove right into the "Mawwage, mawwage is what bwings us here today" bit from The Princess Bride. From there, they pretty much wrote their own vows, their own handfasting, and most of the remaining ceremony; I was just there to make it official. Oh yeah, and to look AWESOME.
OK, so I'm tooting my own horn a bit here, but hey, my boobs *did* look great. ;P And they even requested that my husband Ricky dress up as my zombie assistant, which of course he happily did. The ceremony was beautiful and heartfelt, and attracted quite the crowd of curious tourists and onlookers. The couple made their own wedding cake, which we all shared after the ceremony whilst playing with toys from the totally cool Trick Or Treat bags the guests received as favors.
I'm pretty sure all of the photos were taken by Whitney Foote, and I think Dana made her own veil. If you have any other questions about the wedding, just email me and I will let you know. And now, on to the Wedding Porn!!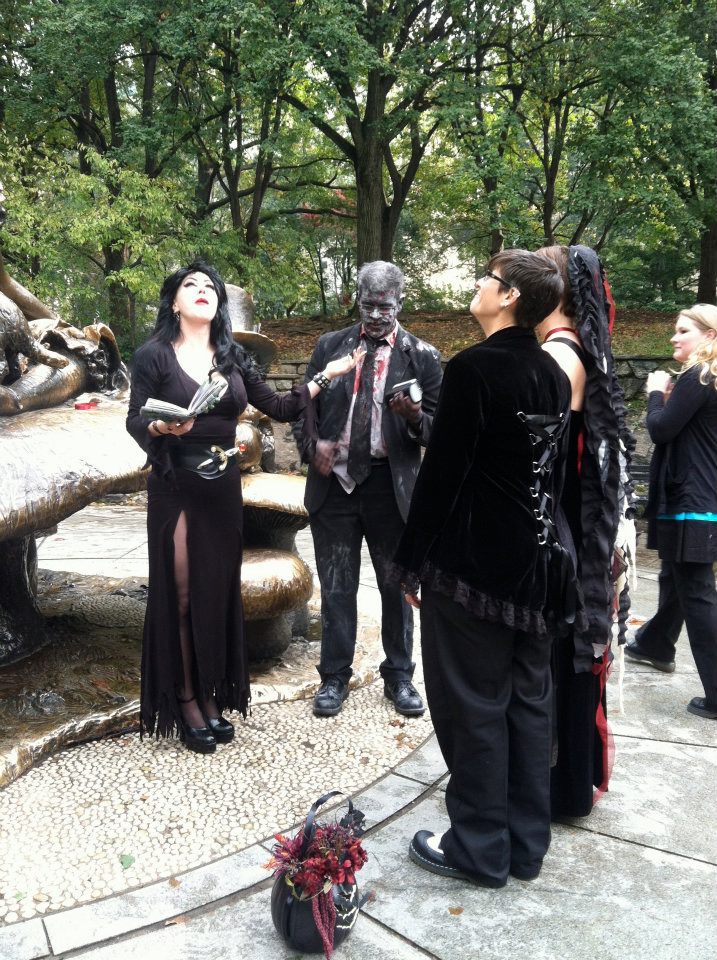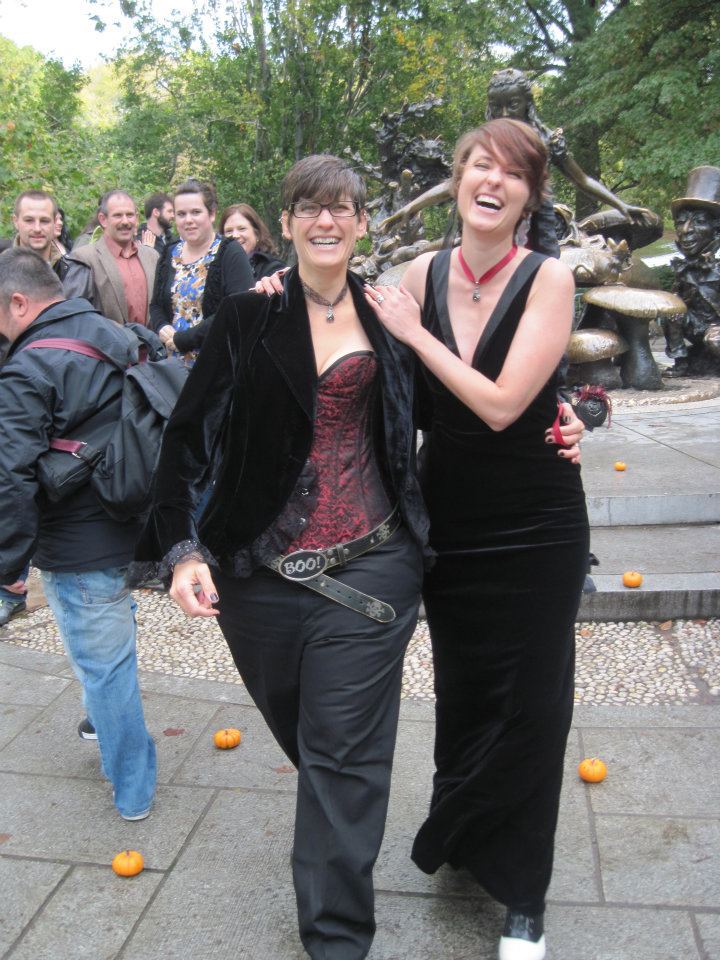 Holy crap, how cute are they? Love and congrats to my Wonderland brides!!